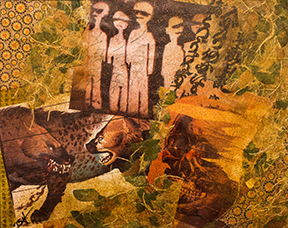 SATURDAY AND SUNDAY Oct. 21-22, 2017
SATURDAY 10AM - 4:30PM, SUNDAY 10AM – 5PM
FACULTY: FANNY BREWSTER, PHD, MFA; MEDRIA CONNOLLY, PHD; FORREST HAMER, PHD; SAM KIMBLES, PHD AND NAOMI RUTH LOWINSKY, PHD
11 Possible Continuing Education Credits Approved for MD, PhD, LCSW, MFT & RN
TUITION: $250/$275 (INCLUDES CEUS)
---
In an America haunted by phantoms of its undigested past and dreams trapped in the underground, how do we begin a conversation about what Toni Morrison called "unspeakable things unspoken?"
---
In the belief that poetry goes where culture fears to tread, our conference will open with a poetry reading, "Tell Old Pharaoh: Poems to Rouse the Spirits." The presenters will read poems of their own as well as by ancestor poets.
We are in an explosive moment in American culture. What is bubbling up from the cultural unconscious—including undigested ghosts of slavery and Jim Crow which manifest in our own times—is terrible and illuminating. This phenomenon, "Phantom Narratives," organize cultural experience. We will address this haunting from different cultural perspectives. We feel torn between the urge toward consciousness and the fear of knowing and being morally present.
Participants will explore these themes in groups, followed by a panel discussion. How do we experience our collective responsibility? How do we find ways for reparation?
On Sunday, "Dreaming in Black and White: Race in the Unconscious," led by Fanny Brewster, participants will explore their own cultural dream symbols using active imagination, dreamwork and creative writing. Multicultural dream analysis can deepen our understanding of shadow issues and race relations and hopefully engage us in conversation about "unspeakable things."

FANNY BREWSTER, PHD, MFA is a Jungian analyst, author of African Americans and Jungian Psychology: Leaving the Shadows and forthcoming, Archetypal Grief: Slavery's Legacy of Intergenerational Child Loss. Her poems from Journey: The Middle Passage have appeared in Psychological Perspectives Journal (2016).

MEDRIA CONNOLLY, PHD, is a licensed clinical psychologist with a private practice located in Santa Monica, CA. Her practice focuses on work with individuals, couples, and adolescents. Her work is primarily attuned to the challenges faced by people of color. Recently, Dr. Connolly has focused her attention on the psychological case for reparations to descendants of American slavery.

FORREST HAMER, PHD is an Oakland psychologist and psychoanalyst who teaches at the San Francisco Center for Psychoanalysis. He is also the author of three poetry collections: Call and Response (Beatrice Hawley Award); Middle Ear (Northern California Book Award); and Rift.

SAM KIMBLES, PHD is a clinical psychologist member of the C.G. Jung Institute of San Francisco; and clinical professor, Department of Family and Community Medicine at University of California, San Francisco. His books: The Cultural Complex: Contemporary Jungian Perspectives on Psyche and Society with Tom Singer, and Phantom Narratives: The Unseen Contributions of Culture to Psyche, explore the themes of psyche in groups and society.

NAOMI RUTH LOWINSKY, PHD is a Jungian Analyst and poetry editor of Psychological Perspectives. Her fourth poetry collection is The Faust Woman Poems. She won the Blue Light Poetry Prize for The Little House on Stilts Remembers. A book of essays, The Rabbi, the Goddess and Jung was just published.
Date: Oct 21, 2017 10:00 AM - Oct 22, 2017 05:00 PM
Fee
CE Hours
Registration closes on Oct 22, 2017 05:00 PM
Activity Type
Requirements for CE Credit
CEUs will be issued after completion of the post-test and evaluation, according to attendance.