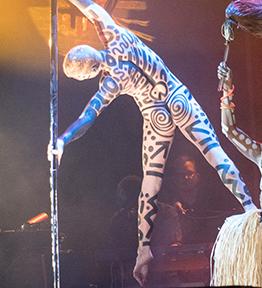 THE PASSIONATE BODY:
HIV/AIDS AS CULTURAL COMPLEX
---

SATURDAY, DECEMBER 3, 2022
10AM – 2:30PM
LIVESTREAM ONLY
FACULTY: PAUL ATTINELLO, PhD
TUITION: $125
---
Looking at some of the emotional/cultural/archetypal patterns that have
had such a deep impact on our world in modern times, from HIV/AIDS
to COVID-19.
---

HIV/AIDS has been an intensely charged crisis in sexuality, medical
awareness, and our relationship to sickness and death for forty years,
and continues to be an ongoing disaster in many parts of the world.
I will approach AIDS as a series of dense cultural complexes,
all combining ancient roots with modern patterns, with some
reappearing in the COVID pandemic. Viral invasion, infection
anxiety, illness and death returning to the contemporary world
has re-ignited some of these patterns.

The archetypal narrative of the experience of HIV/AIDS as it exists
in the ego, in the imagination, in the body, and in politics, links the
unapproachable intensity of early death tied to physical passion. The
passionate body is a generating focus — the body that desires, that
is erotic — which is also the body that wants to live, that battles and
demonstrates and engages with contagion, rot, and disintegration.

PAUL ATTINELLO, PhD, is a Jungian analyst who has taught at
Newcastle University and the University of Hong Kong. He received his
PhD from UCLA and diploma from the C. G. Jung Institute in Zürich,
Switzerland. He has lived and worked on four continents, and is published in
essay collections, journals, and references, writing on contemporary music,
HIV/AIDS, and philosophical and psychological topics.
Date: Dec 3, 2022 10:00 AM - 02:30 PM
Fee
Registration closes on Dec 03, 2022 01:00 AM
Activity Type