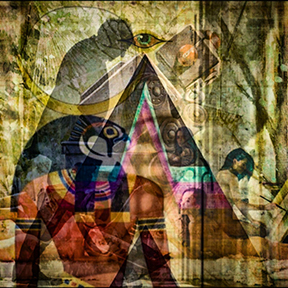 THE IMAGINAL LANDSCAPE: PSYCHIC DEVELOPMENT PRACTICES
FRIDAY, FEBRUARY 18, 2022
7 – 9PM
SATURDAY, FEBRUARY 19, 2022
10:30AM – 5:30PM
SUNDAY, FEBRUARY 20, 2022
10:30AM – 3PM
FACULTY: CHRISTINE PAYNE-TOWLER
TUITION: $250 FOR THE ENTIRE PROGRAM OR REDUCED FEE FOR SAT/SUN ONLY.
---
After a lifetime of hearing about how others have accessed their intuitions, isn't it time to cultivate your own?
---
Psychic development is as old and varied as human culture. Historic catalogues of psychic practices can be found under the titles of shamanism, esotericism, magic, mysticism, theurgy, yoga, alchemy, theosophy, medicine, divination and self-initiation. These titles represent variant approaches for the care and feeding of the imaginal, the inner structure of the private psyche. While taxonomies and specialized vocabularies are essential for comparative analysis, in this workshop we are going to reach beyond the terminologies to evoke unique personal gnosis through our own inner symbols and syntax. Our challenge is to thin the preconceived barriers that separate us from encountering our one-of-a-kind internal ecosystem directly. Using methods handed down from Antiquity and reframed by Paracelsus, we will examine our own workings as both shamans and scientists. We will make a brief but systematic tour of the inner surfaces of consciousness, allowing the natural language of our private senses to shine forth. Those who choose to journal the process will have a strong and positive foundation in hand for extended future research.
CHRISTINE PAYNE-TOWLER is the author of The Underground Stream: Esoteric Tarot Revealed. She and Michael Dowers created Tarot of the Holy Light, voted one of 10 best decks of 2011 at tarotforum.net. Her most recent book is Foundations of the Esoteric Traditions. Her degree in Mysticism and Parapsycholog y is from John F. Kennedy University.
Date: Feb 18, 2022 09:00 PM - Feb 20, 2022 03:00 PM
Fee
Registration closes on Feb 20, 2022 01:00 AM
Activity Type
Registration closes on Feb 20, 2022 at 01:00 AM
Date: 02/18/22
Time: 07:00 PM - 09:00 PM
Fee
$50.00
Registration closes on Feb 20, 2022 at 01:00 AM
Date: 02/19/22
Time: 10:00 AM - 05:30 PM
Fee
$150.00
Registration closes on Feb 20, 2022 at 01:00 AM
Date: 02/20/22
Time: 10:30 AM - 03:00 PM
Fee
$100.00