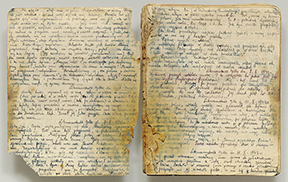 THE DIARY OF RYWKA LIPSZYC: INTERGENERATIONAL HEALING, THE SHADOW, AND THE MYSTERY
SUNDAY, OCTOBER 10, 2021
2 - 4PM/PT
FACULTY: ANASTASIA BEREZOVSKAYA, PsyD
TUITION: $50
---
How a young girl's diary found in Auschwitz traveled the world, triggered temptation, and helped her surviving relatives to begin addressing the trauma.
---
In June 1945, a Soviet Army doctor on her way home from Berlin found a charred notebook in the ruins of Auschwitz. Her granddaughter discovered the diary in her late father's archives half a century later. It was translated and published by Jewish Family and Children's Services in 2013, and the dedicated work of the Holocaust Center archivist led to the discovery of the author's surviving family in Israel. Currently placed in Yad Vashem in Jerusalem, the diary had a long and perilous journey before being returned to her family. The presenter, the granddaughter who found the diary and facilitated the process, visited the family in 2015 and witnessed how Rywka's cousins, survivors of the Holocaust, finally broke their silence to their families and began the healing process. The young girl's fate remains a mystery.
ANASTASIA (ANA) BEREZOVSKAYA, PsyD, graduate of The California Institute for Integrational Studies and a former intern at the C.G. Jung Institute of San Francisco. She works in private practice and at an outpatient psychiatric clinic. In her free time, she enjoys singing, reading, cooking, and traveling.
Date: Oct 10, 2021 02:00 PM - 04:00 PM
Fee
Registration closes on Nov 06, 2021 01:00 AM
Activity Type