JUNGIAN ORIENTED PSYCHOTHERAPY
A TEN-MONTH COMPREHENSIVE PRACTICE-BASED COURSE WITH NINE SECTIONS IN ANALYTICAL PSYCHOLOGY PLUS TWO INTEGRATION SESSIONS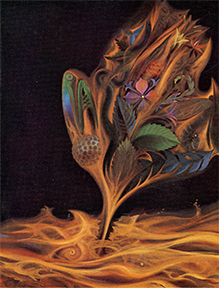 MONDAYS, OCTOBER 5, 2020 - JUNE 2021 (specific Monday dates to follow soon)
7:00 – 9:15PM
COORDINATORS: CAROLYN H. BRAY, PHD AND PAUL WATSKY, PHD, ABPP
FACULTY: MARIO STARC, MSW, PHD; YVONNE SMITH TARNAS, MFT, PHD; TINA STROMSTED, PHD, MFT, LPCC, BC-DMT, RSME/T; C. SHOSHANNA FERSHTMAN, JD, PHD; JOHN BEEBE, MD; ALAN RUSKIN, PHD; LAUREN CUNNINGHAM, LCSW; CHRISTOPHER CUNNINGHAM, PHD; MARIA ELLEN CHIAIA, PHD, MFT
66 Possible Continuing Education Credits Approved for MD, PhD, PsyD, MFT, LCSW, LPCC, LEP & RN
Fulfillment of the requirements of the course will be acknowledged by a letter of completion.
TUITION: $1650 (INCLUDES CEUs)
Monthly payments accepted
This class will be offered online as needed to comply with COVID restrictions for locals, however any distance learners may register as long as they attend live in Pacific Time.
Title: Fire Gives Birth
Artist Peter Birkhauser
c. 1958
The Jungian Oriented Psychotherapy course is designed for licensed mental health professionals seeking to enhance their clinical practice. This course offers the basic building blocks of analytical psychology that can be applied in a broad range of settings, from community-based organizations, to private practice with a focus on cultivating a symbolic attitude between clinicians and their patients rather than a solely symptomatic approach. Through didactic presentations, interactive discussions, and case material participants will learn how to work with images and affects that arise from dreams, through creative endeavors, and bodily experiences which may be communications from the unconscious. Participants will gain tools to integrate depth psychology approaches in their clinical work and to support patients search for meaning.
SEMINARS WILL BE TAUGHT BY CERTIFIED JUNGIAN ANALYSTS WHO ARE MEMBERS OF THE C.G. JUNG INSTITUTE OF SAN FRANCISCO AND THE INTERNATIONAL ASSOCIATION FOR ANALYTICAL PSYCHOLOGY
---
THIS NEW COURSE MAY BE CONSIDERED A LINK INCORPORATING OUR TRADITIONAL YEARLONG SEMINARS THAT COULD LEAD TO AN APPLICATION TO OUR ANALYTIC TRAINING PROGRAM.
---
CANCELLATION POLICY: Refunds, less a $25 cancellation fee prior to October, 2020. NO REFUNDS ONCE THE CLASS HAS STARTED – SPACE IS LIMITED.
QUESTIONS: Contact Extended Education at (415) 771-8055 ext *208 or programs@sfjung.org
Partial scholarships can be made available on a case by case basis.
SECTION ONE:
Analytical Psychology: Historical Context
Monday, October 5, 2020
Mario Starc, MSW, PhD
The history of analytical psychology will be the focus of this section, both its relationship to Freudian theory and its roots in the intellectual culture of the times. Similarities and differences between psychoanalysis and analytical psychology will be explored.

SECTION TWO: Symbolic Attitude
Mondays, October 12, 19, 26, 2020
Yvonne Smith Tarnas, MFT, PhD
To develop the symbolic attitude, these three classes will introduce Jung's world of the archetypal psyche, using images, film, and case material. Over our time together, we will discuss the symbolic representations in dreams, the clinical narrative, and the transference, including dynamics of synchronicity.

SECTION THREE:
The Complex of Identity: Ego, Ego Development and the Structure of the Psyche
Mondays, November 2, 9, 16, 23, 2020
C. Shoshana Fershtman, JD, PhD
In this course, we explore Jung's conceptualization of the ego, the Latin word for "I." Jung wrote in Aion that the ego forms "the centre of the field of consciousness." In this course, we explore Jung's view of the ego, ego complex and identity. We explore ego development and its challenges, and the ego's relationship to other aspects of the psyche, including the shadow, the persona and the Self.

SECTION FOUR:
Complexes, Persona, and Shadow
Mondays, November 30; December 7, 14, 21, 2020
Mario Starc, MSW, PhD
C.G. Jung's description of the psyche begins with the concepts of "Complexes," "Persona," and "Shadow." To help us understand human behavior, we will develop our understanding of how to apply these concepts to our clinical work through case material and mutual consultation in a group setting.

SECTION FIVE:
Course Integration
Monday, January 4, 2021
Carolyn H. Bray, PhD
Participants will be given an opportunity to evaluate the course to date: clarity of concepts, applicability of practices, incorporating course material into clinical practice.

SECTION SIX:
Approaching the Unconscious: An Analytic Attitude
Mondays, January 11, 25; February 8, 2021
Tina Stromsted, PhD, MFT, LPCC, BC-DMT, RSME/T
Our goal will be to reflect on approaches to accessing the unconscious including the creative arts, the body in analysis and applying embodied methods of inner work toward a range of populations and clinical settings along with the importance of nonverbal, creative dimensions in the healing process.

SECTION SEVEN:
Anima and Animus, Female and Male
Mondays, February 22; March 1, 8,15, 2021
Lauren Cunningham, LCSW and
Christopher Cunningham, PhD
Using Jung's seminal writing, we will start with a historical account of his concepts of anima and animus, which pertain to the union of opposites and the emergence of the Self. Clinical material will be presented and compared to alchemical images. We will bring our conversation into relationship with modern cultural constructions of gender and sexuality and consider ways to inform our clinical work with contemporary gender theory and cultural struggles.

SECTION EIGHT:
Psychological Types
Mondays, March 22; April 5, 12, 19, 2021
John Beebe, MD
Jung's psychological types are not types of people, but types of consciousness. In this course, we will learn to differentiate the eight types of consciousness Jung identified, as well as explore what Jung meant by the terms "rational" and "irrational" as well as extroverted and introverted as qualities of consciousness. We will learn to recognize the types of consciousness and see how the types relate to archetypal roles each of us take up.

SECTION NINE:
Archetypes, Myths, and the Personal Psyche
Mondays, April 26; May 3, 10, 17, 2021
Alan Ruskin, PhD
Past the domain of the personal unconscious we encounter the impersonal realm of what Jung termed archetypes, energies in what he conceived of as the collective unconscious. We will explore how archetypes manifest themselves in various cultures' myths, as well as our individual mythologies, and how during the clinical hour they influence the process of transference.

SECTION TEN:
The Self, Ego-Self Alignment and Estrangement
Mondays, May 24; June 7, 14, 21, 2021
Maria Ellen Chiaia, PhD, MFT
To understand the basis of Jungian depth psychotherapy and dream work, we will focus on the developing relationship between the ego and the Self as posited by Jung's concept of the "Individuation process." We will discuss the emergence of ego functioning out of the Self, as well as the Self as a driver and symbol of psychological integration, wholeness.

SECTION ELEVEN:
Final Course Integration and Evaluation
Monday, June 28, 2021
Carolyn H. Bray, PhD
A focus on integrating course concepts and practical applications, a discussion of participants' clinical development, identification of avenues for further study, and a course evaluation will comprise our final session.
Date: Jan 4, 2021 07:00 PM - 09:15 PM
Fee
CE Hours
Registration closes on Dec 30, 2020 01:00 AM
Activity Type
Accreditation(s)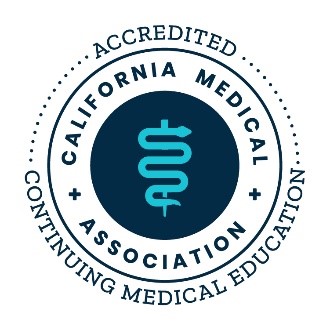 The C.G. Jung Institute of San Francisco is accredited by the California Medical Association to provide continuing medical education for physicians.
Clinical psychologists are also eligible to receive CME credit, which is accepted by the APA and the California Board of Psychology.
The C.G. Jung Institute of San Francisco designates this live activity for a maximum of [TotalCEHours] AMA PRA Category 1 Credit(s)™ Physicians should claim only the credit commensurate with the extent of their participation in the activity.
Requirements for CE Credit
CEUs will be applied periodically following a review of attendance sheets and only after both the post-test and course evaluation have been completed.
Please choose a Fee Type from the Drop Down Menu Below:
I am a
Registration closes on Dec 30, 2020 at 01:00 AM
Please see program page for descriptions of each section.
Speaker(s)/Author(s)
Carolyn H. Bray, PhD


Brief Bio : is the current president of the C.G. Jung Institute of San Francisco. She is an associate editor of Jung Journal: Culture & Psyche, and maintains a practice in San Francisco and Marin, CA working with adult individuals and couples. Her special interests include a Jungian typological approach to understanding human relationships, Hawaiian mythology and shamanism, and working with individuals who have experienced sexual abuse trauma.
Michael Bala
Member, CGJISF
Activity Number
JOP2020G2
Date: 01/04/21
Time: 07:00 PM - 09:15 PM
CE Hours
2.25