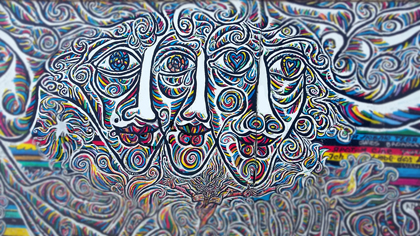 THE MIRROR'S OTHER FACE:
ANIMA/ANIMUS AND THE PERSONIFICATION OF THE UNCONSCIOUS
FOR LICENSED CLINICIANS ONLY
SATURDAY, APRIL 6, APRIL 13, 2019
10AM - 4PM
FACULTY: QI RE CHING, LCSW
10 Possible Continuing Education Credits Approved for MD, PHD, MFT, LCSW, LPCC, LEP & RN
TUITION: $250 | $275 INCLUDES CEUs
---
An exploration of the concept of Anima/Animus and its relevance to the spirit of these times.
---
Anima/Animus, as personifications of the unconscious, challenge us to go deeper into ourselves and our experience of life. We see them in objects we desire and fear. When unconscious, our view of reality is distorted. At the same time, these figures help us to attain a more fluid and enlarged vision of ourselves, and a richer connection to the unconscious as an unending source of knowledge, meaning and vitality.
Anima/Animus are integral to C.G. Jung's conceptualization of the structure of the psyche. They can also instill conflict, confusion, and ambivalence, given that many of us have moved away from a binary view of gender. We will review Jung's comments on the subject, its place in his theoretical framework, and how this concept was further defined by subsequent writers. We will also explore some of the assumptions regarding anima/animus that have been challenged and reexamined due to changes in cultural attitudes.
Course will include assigned readings, the presentation of dream material, case vignettes, and the sharing of personal experience of these archetypes.
QI RE CHING, LCSW is an analyst member of the C.G. Jung Institute in San Francisco, and has been teaching actively in the candidate training program at the institute. He also has a background in fine arts and has been a Hunters Point Naval Shipyard artist for over 30 years.
For information on our cancellation/refund policy, accommodations and grievance statements, please visit our FAQs page via the menu bar above.
Date: Apr 6, 2019 10:00 AM - 04:00 PM
Fee
CE Hours
Registration closes on Apr 07, 2019 01:00 AM
Activity Type
Requirements for CE Credit
Attendance plus, completed evaluation and post-test. Post test and evaluation must be completed to receive CEUs.
Please choose a Fee Type from the Drop Down Menu Below:
I am a
Speaker(s)/Author(s)
Qi Re Ching
Analyst, CGJISF
Date: 04/06/19
Time: 10:00 AM - 04:00 PM
CE Hours
5.00
Location
The C.G. Jung Institute of San Francisco
Speaker(s)/Author(s)
Qi Re Ching
Analyst, CGJISF
Date: 04/13/19
Time: 10:00 AM - 04:00 PM
CE Hours
5.00
Location
The C.G. Jung Institute of San Francisco
Date: 04/13/19
Time: 04:00 PM - 05:00 PM
CE Hours
0.00